From Emerald Isle to Key West on a Beach Cruiser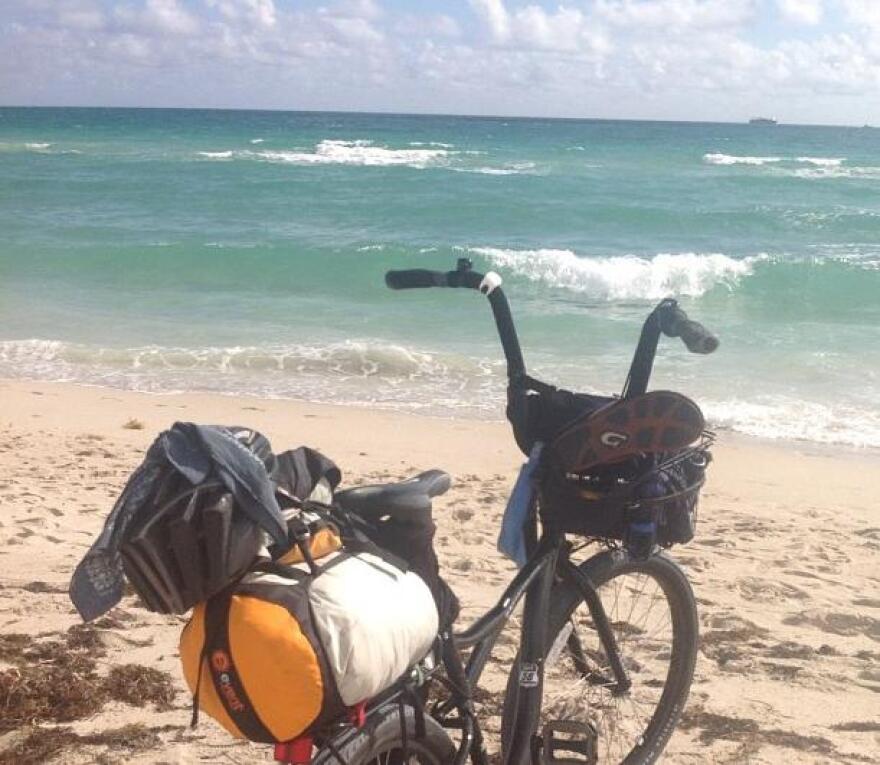 One man from eastern North Carolina is pedaling over a thousand miles to raise awareness and support for substance abuse prevention.
Pedaling a bike from North Carolina to Florida is pretty impressive. But do it on a beach cruiser bicycle - you know, the ones with big balloon tires, large handle bars and a basket -well, that takes determination. This is the feat local attorney Dock Hooks is in the middle of. He left from Emerald Isle the day after Thanksgiving and is making his way to Key West. But it's not just doing it for exercise or adventure. It's to raise funds and awareness for substance abuse prevention- a cause close to his heart.
"my son died two and a half years ago. He was an addict. And that disease killed him. I'm passionate about helping other people to prevent the thing which happened to my son."
All of the funds from Hooks' one thousand and 20 mile journey will benefit the Charlie D. Hooks III Youth Leadership Award, named after his son.
"I was inspired to do something to lend a hand, something that I could do to help out. I figured doing a long-distance trip on a beach cruiser bicycle which is sort of an unusual thing, I don't know If I've ever heard of anyone who's done a long distance ride on a beach cruiser bicycle before."
Hooks is partnering with the Coastal Coalition for Substance Abuse Prevention, a nonprofit that serves Carteret, Craven, Jones, Onslow and Pamlico counties. The money raised during the bike ride will help provide substance abuse training for youth and fund scholarships for teens involved in the SAPHE Program, which stands for:
"Substance Abuse Prevention Helps Everyone."
Coastal Coalition for Substance Abuse Prevention Board Chair Carol Mattocks says they train the group of about a dozen students to serve as advocates in their schools and in public and political environments, like county commissioner and board of education meetings.
"They have worked with retail purchase outlets that sell alcohol to encourage retailers to properly ID customers that come in so they won't be selling to underage customers."
Students that have been involved with the SAPHE Program for several years and are in their senior year of High School are eligible to receive the Charlie D. Hooks Youth Leadership Award. The scholarship has been offered for the last two years, since Charlie Hooks passed away.
It was his son's death that inspired Dock Hooks to pedal from North Carolina's coast to the southernmost part of Florida. The bike he's riding is a slightly modified Jamis Earth Cruiser. The large, soft seat has been replaced with a road bike seat. Also, the bike is equipped with four water bottle holders. Hooks left from his home in Emerald Isle around 7 a.m. one week ago.
"That first day, about 90 miles took me quite a long time. On a beach cruiser bike, it's harder to go faster than 10 miles per hour if you have any wind at all unless its at your back. But I was fortunate, I had wind at my back that day and I made 90 miles and I arrived in Wilmington by 4 o clock that afternoon I left at 7 in the morning."
Hooks averages about 6 to 8 hours a day on The Warhorse, that's what he's calling the beach cruiser. He says the journey has been fun so far, but filled with many challenges.
"You know the little things that if you run off to the right it wakes you up cause you hit these bumps in the road with your car? Well, those have been built into the shoulder of the road in most places, whatever they're called. And they take up quite a bit of what used to be a bicycle friendly shoulder of the road. So it's a really narrow little path that I have along the right side of the highway."
Sometimes Hooks would be forced to ride on the road, putting his own safety on the line. When he wasn't dodging motorist along the busy stretch of Highway 17, there were other obstacles. Hooks wrote on his blog that he was exhausted from the "intense headwinds" pedaling from Wilmington to Georgetown, SC.
In addition to those unforeseen challenges, Hooks is doing body cleanse for the first half of the trip. He's also stopping every ten miles to do fifty pushups, fifty sit-ups and 50 four count flutter kicks.
"People think it's really weird when they see me on the side of the road. But I'm feeling really good."
Hooks faces many different challenges on the journey, but when he remembers the purpose of the ride it encourages him to keep going.
"One of the most interesting stories is how many people are touched by addictions and issues with that and substance abuse. One person would hear me talking to another and another person would come up. I have people now calling me they want to join in on the ride telling me they lost their loved one to substance abuse."
We caught up with Hooks via cell phone on Tuesday while he was taking a day away from the Warhorse in Charleston, South Carolina.
"Because it's going to rain today, I'm using today as kind of a maintenance day. You know when you're on the road several days like that, things get dirty and so after we talk, I'm heading to the bike shop to get my bike cleaned and serviced and just tuned up you know I want to make sure it stays in good working condition the whole way. So it's just really preventive maintenance."
The next day, the retired Navy SEAL and attorney went from Charleston to Beaufort. He'll pedal down highway 17 until he reaches Savannah. Then, he'll follow I-95 thru Florida and then on Highway 1, which will take him to Key West.
Hooks hopes to reach the Florida border by Sunday. He'll make 11 stops before arriving in Key West. When he finally gets there, Hooks told me he's looking forward to have a hot meal and a long soak in the hot tub. If you'd like to see pictures of Hooks and his "war horse" beach cruiser, visit publicradioeast.org. There, you will also find a link to his blog and twitter page.
Dock Hook's blog: http://cdockei2kw.tumblr.com/
Dock Hooks twitter: @dockhooks