Back-to-back discoveries of two unrelated aquatic invasive species in North Carolina "unprecedented"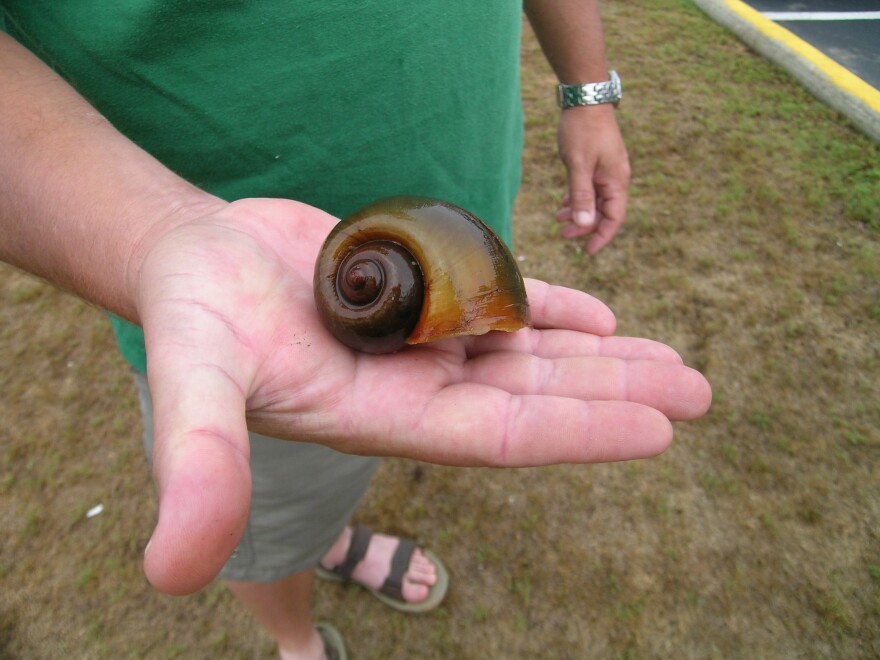 In recent years, North Carolina's waterways from the east coast to the mountains have been threatened by PFAS contamination, climate change, bacterial contamination and more. Now, two new threats to the waters have been uncovered, and they have wreaked havoc in other places these invaders have been found.
In September, there were two reports basically back-to-back of two new aquatic invasive species in the state, the zebra mussel and apple snails.
Research Curator of Mollusks at the North Carolina Museum of Natural Science Art Bogan and Assistant Chief of Fisheries for the North Carolina Wildlife Resources Commission Rachael Hoch were both caught off guard by the discovery.
According to the U.S. Geological Survey, zebra mussels probably first arrived in the Great Lakes in the 1980s in ballast water discharged by ships from Europe.
They spread rapidly throughout the Great Lakes region and have also been found in Texas, Colorado, Utah, Nevada, and California – and now North Carolina.
Art says they do resemble a native species somewhat, and when he got the call last month to take a look at a mussel found in an Iredell County quarry he wasn't initially concerned.
"Well, I'm sure that it's going to be another dark falsemussel," he said, "And she brought a vial in with two of them in there about, a little over an inch long, and, yep, those are zebra mussels."
A new study from the Intergovernmental Platform on Biodiversity and Ecosystem Services has concluded that invasive species cost about $423 billion per year in control, remediation, and damage worldwide, and freshwater species like the zebra mussel account for about 14 percent of that total.
"The devastation that we've seen in the Great Lakes could absolutely happen here in North Carolina, where they encrust on all of those structures, boats, impact recreational access and water sports," Rachael said. "They can clog water intakes -- municipal water supplies, power plant water supplies."
However, because the mussels were found in a quarry and not a connected body of water, she said the outlook for their spread in the state is a hopeful one.
"It is currently contained in a private body of water, and so we're hoping that we're going to be able to contain this and it will have minimal impact for the state," Rachael explained.
In addition to the damage they can do to recreational and municipal water infrastructure, Art said the filter feeders can also alter the ecology of the waters they're found in, and on the native creatures that call those waters home.
"It's exposed. It's a hard surface, water flowing and pretty soon, all of a sudden, you have up to 11,000 animals living on the rear end of one native muscle. Storm surge comes along and pretty soon you're seagull food up on the beach," he said.
Rachael said the best way to prevent the spread of the invasive mussels is to make sure that diving and boating equipment is drained of all water, cleaned and completely dried before taking it into another body of water.
"Clean your boats," she said, "Remove as much mud plants and water that you can while you're still on site before you leave. You know, drain those live wells, drain equipment and then give it ample time to dry."
When it comes to the other unwelcome guest, the apple snail, Art said he was a bit more prepared after a sample he studied earlier this year.
"The Wildlife Commission this spring sent me some opercula, the trap door on a snail, out of the stomach of an alligator that had been poached," he said. "They didn't know where it came from, and these were apple snail opercula."
And he later identified them after the snails were discovered near the Lumber River in Lumberton.
"When the wildlife commission biologist called me and said 'hey, we've got these cases up on a tree or something' I go 'Oh, my.' And said 'what color are they?' He said 'they're pink.' OK. It's an apple snail."
Rachael said the snails can multiply quickly and they're pretty big. "Apple snails are native to South America, so they have no natural predators. They can get very large. Up to six inches. They've been called one of the world's worst invaders."
They made it to the U.S. in two ways – as culinary delights and as pets in people's aquariums.
Art said, "The Asian Community collects them for food. So, I've had them with wine sauce and, you know, it's like with wine sauce or garlic butter you can just about eat anything."
And Rachael added, "When people are kind of done keeping an aquarium, because it can be a lot of work, they just dump it and we really recommend that again, you cannot stock any animals into public bodies of water and that those kind of need to be disposed of instead of released into anywhere where they could escape."
In addition, both the snails and their eggs can have a negative impact on human health. Rachael said, "They, like most snails, are an intermediate host for a variety of parasites that can be transferred to things like waterfowl and even humans. And, in this case, this species is known to harbor the rat lungworm parasites and other flukes, and the eggs – which are bright pink -- they actually produce a neurotoxin that can irritate skin and eyes."
"I don't eat raw oysters either, and people go, 'oh, they're great, they're great,' but, no," Art said, "Because they're also another filter feeder that has the potential of accumulating all sorts of nasty things that are harmful to humans."
Another invasive snail has been present for much longer, and Rachael says it still shouldn't be on the dinner table. "The first report of mystery snails into the U.S. was for food in the 1890s, it ended up in some food markets in San Francisco and from there it was found again in Boston in the early 1900s. And so people do eat these. They are part of the diet for some of our communities, but they do carry parasites and so they really need to be cooked fully and it's not recommended."
"Most snails lay eggs, but the mystery snails actually have live young and that makes them prolific," she added, "They can quickly invade, they can get to high densities. They're grazers."
The North Carolina Wildlife Resources Commission has established an online reporting tool for the zebra mussel and the apple snail and is asking people to be on the lookout for the invaders.
"Just snap a picture and note your location and then share that picture and let us know what you think you saw so that we can have that quick and rapid response for these new invasions," Rachael said.
The online reporting tool is available HERE.